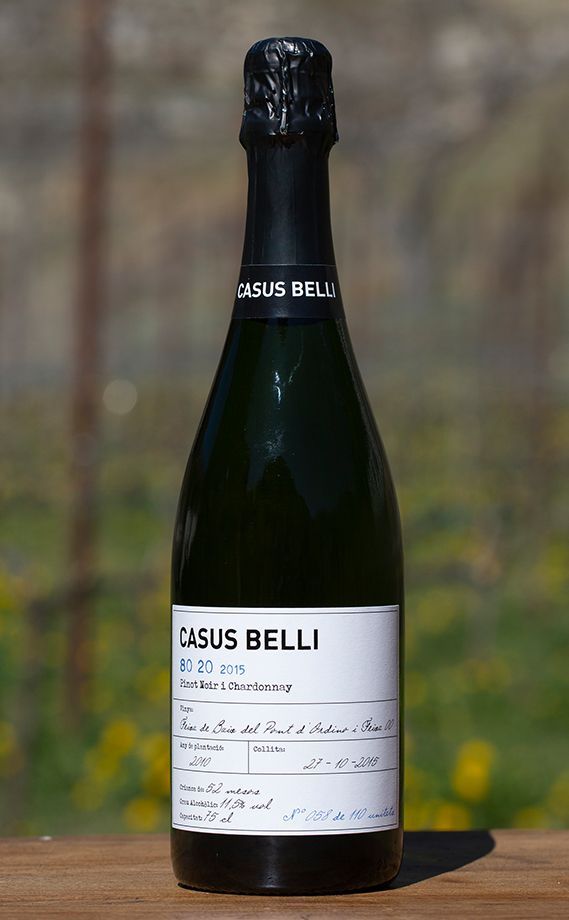 80/20 2015 Pinot Noir Chardonnay
It is a wine made from a blend of Pinot Noir (80%) and Chardonnay (20%) from the lower strip of the Pont d'Ordino — a plot of different soils bordering on the strip and a hill of pine groves that gives shady protection in the afternoons. Aged in horizontal stacks for more than 52 months. The Casus Belli 80/20 is a sparkling wine that has deserved the admiration of the most demanding palates. With an intense nose and notes of maturity, but also with freshness, it captivates with its aromatic richness of baked apple, sweet pears, ripe citrus, grapefruit skin, withered flowers and a Mediterranean herbal background reminiscent of fennel and rosemary. Its ageing notes add many other registers: hazelnuts, brioche, toast, toffee… In the mouth it has a powerful entry and a huge structure. Its bubble is fine and creamy and, again, its ageing notes alongside frosty and balsamic fruit reaffirm its great quality, complexity and balance.
A lively, refreshing and very long wine, it accompanies a myriad of raw materials and elaborations, from appetisers to stews.
Casus belli

80/20 2015 Pinot Noir Chardonnay
VARIETY:
Pinot Noir i Chardonnay
ORIGIN:
Any de la Part - Ordino
VINEYARDS:
Feixes de Baix del Pont d'Ordino and Feixa de la Cultia 00
AGEING:
52 months stacked horizontally
BOTTLED:
16 september 2020
PRODUCTION:
Limited to 110 bottles
ALCOHOL CONTENT:
12,5% vol.