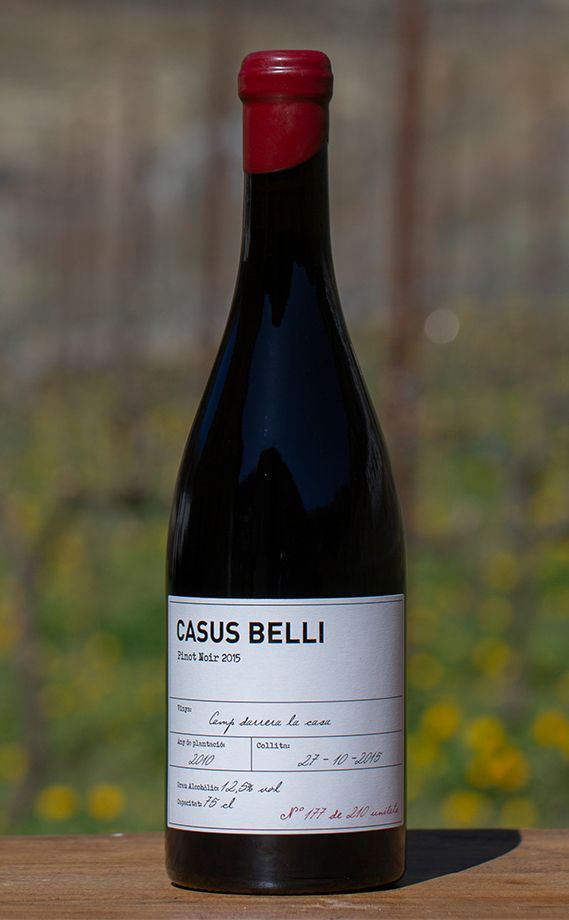 The Casus Belli Pinot Noir 2015 wine is pure elegance. Pomegranates, currants and wild strawberries on a milky background. Its red colour, halfway between cherry and the ruby, prepares us for an unctuous and velvety mouth. Pepper and cloves remind us of the barrel and add complexity in the mouth, while the precise acidity adds to the natural volume of the Mediterranean regions, an unusual verticality in these latitudes. Each moment a new aroma appears in the wine: a suggestive creamy note reminds us of those white rubbers that many of us used to erase at school, while some spices warmer than those previously perceived, such as cinnamon and vanilla, add an important extra. However, its stately character is not based on wood, but rather on fresh, complex and even balsamic fruit. Between the cheeks it is tasty and seems to want to hide its fine tannins among the hints of ripe red fruit and liquorice. It gains in aromas of flowers and scrub every times it passes into the glass, reminiscent of the elegance of the soils and the strong continental contrasts of the most inland Mediterranean.
Casus belli

Pinot Noir 2015
ORIGIN:
Any de la Part - Ordino
VINEYARDS:
Camp de Darrera la Casa. Planting 2010
AGEING:
12 months in Bourgogne barrel 228 L. Extra fine grain, special drying for 36 months
PRODUCTION:
Limited to 210 bottles
ALCOHOL CONTENT:
12,5% vol.