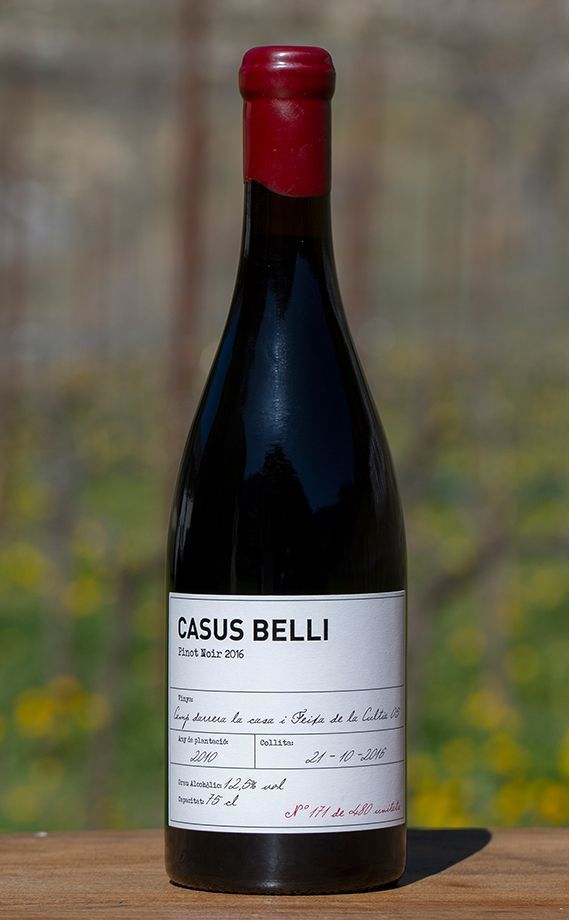 A wine of fragile layer, as befits the variety; its aromas oscillate between the wild red fruit and the fine saline notes so firmly linked to this grape. Wild, rustic and surprising, the Casus Belli Pinot Noir 2016 wine can seduce anyone. Nothing in it is superfluous, you can feel the forest and the land, the sour fruit and the rustic and energetic character of the variety, without artifice, only with the kindness that the time of resting gives it The mountains and the forests seem to want to hide the Pinot Noir vineyards so that no one might discover the great secret of the wines of Casus Belli, a vibrant red, the fruit of the most precise agriculture and removed from any correction or chemical intervention. The marinade dampens the vine leaves while the faint sunlight ensures soft thermal contrasts. This can all make Casus Belli Pinot Noir 2016 a fresh but intense wine. Currants, grass, red flowers, cherries and fine spices are reminiscent of the fruit and oak that are combined in its preparation.
Casus belli

Pinot Noir 2016
ORIGIN:
Any de la Part - Ordino
VINEYARDS:
Feixes de la Cultia 5 and Camp de darrere la Casa
AGEING:
12 months in Bourgogne barrel 228 L. Extra fine grain, special drying for 36 months
PRODUCTION:
Limited to 480 bottles
ALCOHOL CONTENT:
12,5% vol.