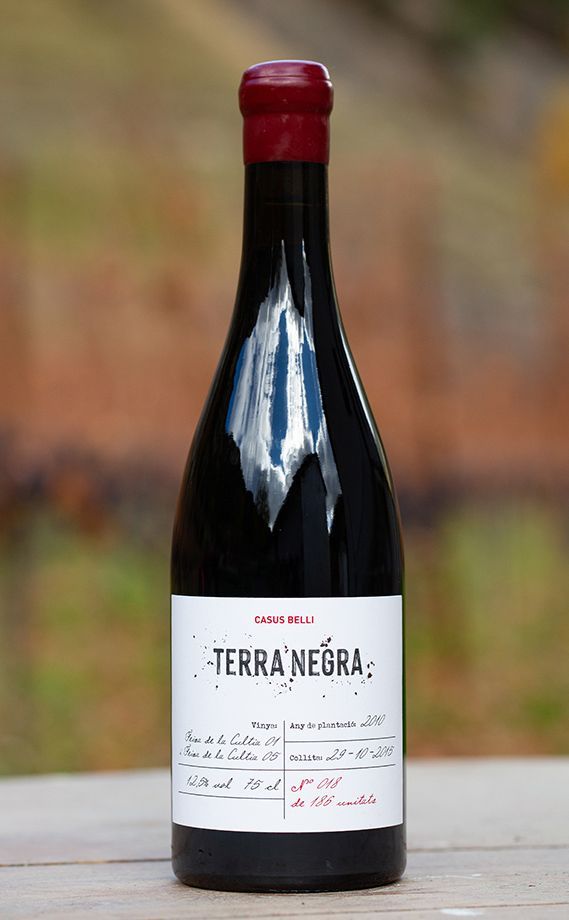 It is a ruby red wine with a copper rim. Scented and fragrant. Great aromatic intensity with hints of red fruits such as wild strawberry, currant, raspberry, strawberry and even watermelon. Stoned fruit like ripe peach, very refreshing citrus notes and others like thyme, lavender and violets. It has herbal notes like dill, floral touches reminiscent of lime. Broad and forceful entry. Important weight of fruit and volume in its unctuous and vinous passage. Rotund in its passage and with good structure, very fresh and lively, it emphasises a slightly bitter note that lengthens the whole. With a refreshing finish of vine peach, melon and water pear. A retro smoky taste adds complexity. All closed by a sustained and refreshing acidity that melts with a bitter note. Our wine has a long persistence.
Casus belli

Terra Negra 2015
ORIGIN:
Any de la Part - Ordino
VINEYARDS:
Feixa de la Cultia 01 and Feixa de la Cultia 05 Planting 2010
AGEING:
12 months in Bourgogne barrel 228 L. Extra fine grain, special drying for 36 months
PRODUCTION:
Limited to 186 bottles
ALCOHOL CONTENT:
12,5 % vol.