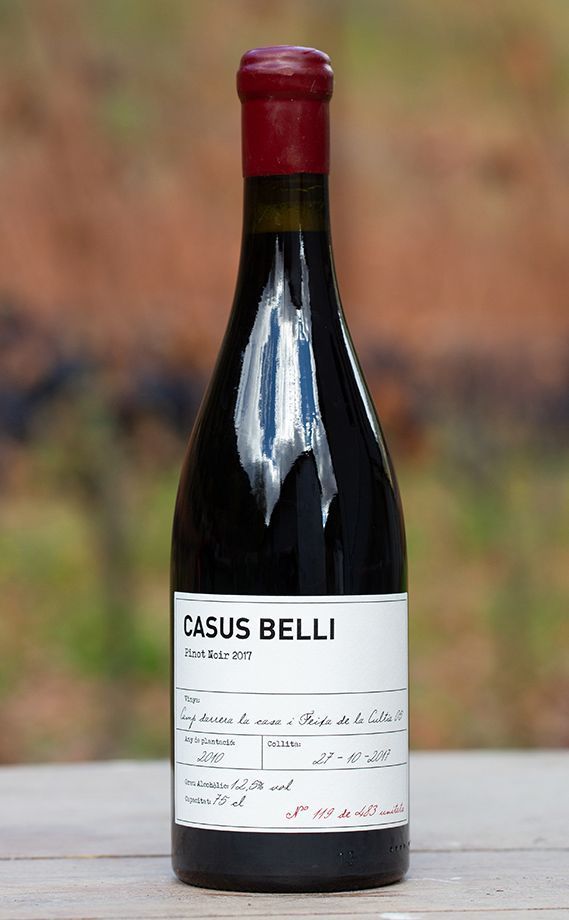 A medium-layer garnet wine with raspberry-coloured edges. Intense and concentrated. Forest berries in season, blackberry and blackcurrant. A hint of violet flowers blends with the notes of ageing: vanilla, pepper, tobacco leaf and touches of chocolate. A subtle yet complex profile. It has floral touches like rose petals. In addition to red fruits such as wild strawberries, blueberries and currants. Fresh citrus grapefruit and herbal notes of fennel and fresh grass. The ageing is manifested in the form of puff pastry and custard. Strong entry, medium body and pronounced tannins. Notes of black fruit, spices and tapenade. All rounded off by a long and lively acidity. Wide and unctuous mouthfeel highlighting a good structure. At the back of the nose, the herbal, citrus and fruit sensations return and at the end of the mouth, the salty touch and its acidity are very refreshing. Long and resounding aftertaste that outlines a complex of great elegance.
Casus belli

Pinot Noir 2017
ORIGIN:
Any de la Part - Ordino
VINEYARDS:
Camp de Darrera la Casa and Feixa de la Cultia 05 Planting 2010
AGEING:
12 months in Bourgogne barrel 228 L. Extra fine grain, special drying for 36 months
PRODUCTION:
Limited to 483 bottles
ALCOHOL CONTENT:
12,5 % vol.